There is no lack of excellent live sex sites out there, so everyone can find something to their taste. One of the popular options that you can visit is FireCams. The site provides you with a wide range of live sex cams that you can filter out based on your preferences. Is this site a good platform for enjoying online erotic content? To find out, continue reading this review.
What about the interface?
When you open FireCams, the site is quite minimal in its design and definitely straight to the point. You are immediately greeted with an entire page of thumbnails from live sex cams. It's easy to see what model waits for you in each case. On top of the screen, there are several tabs that help you navigate through the webcams and find the one you will enjoy the most. The tabs include:
Models online
New
Interactive
Top Models
Categories
In the categories section, the cams are conveniently subdivided into popular categories, so you don't even have to use filters and you can go straight to the section you are in the mood for. Some of the options on FireCams include Asian cams, MILF, curvy, blondes, and much more. The main focus of the site is on female models and while there are some men and transsexuals, their number is significantly lower.
What is great is that the site is uncluttered and user-friendly, so it's easy to find the right type of content for you. Another positive thing about FireCams is that the site is available in 13 languages, which makes it easier for people to use filters and navigate the site.
The filtering system is in place
Another important part of the interface is, of course, the filters you can use. On the top part of the screen right near the search bar, there is a section with all the filters offered on the site. You can quickly put ticks next to the different characteristics so that the site shows only cams suitable for you. There are filters, such as sexual orientation, gender, age, ethnicity, body type, hair color, eye color, and the status of models – offline or online. If you are interested in finding specific kinks, they can be accessed in the Sitemap section of the site at the bottom of the screen. Some of the fetishes and kinks listed there include latex, spanking, sex toys, foot fetish, rubber fetish, and more.
When it comes to sorting videos by their quality, the site doesn't have separate filters for this. You will stumble upon both HD and SD videos on the platform, but the vast majority of videos are in HD quality, which is definitely good news.
Extensive model profiles on FireCams
FireCams excels when it comes to offering information about models. Each model has a profile and you can learn a lot about him or her by reading the details that they offered, so it's easier for you to make the right choice.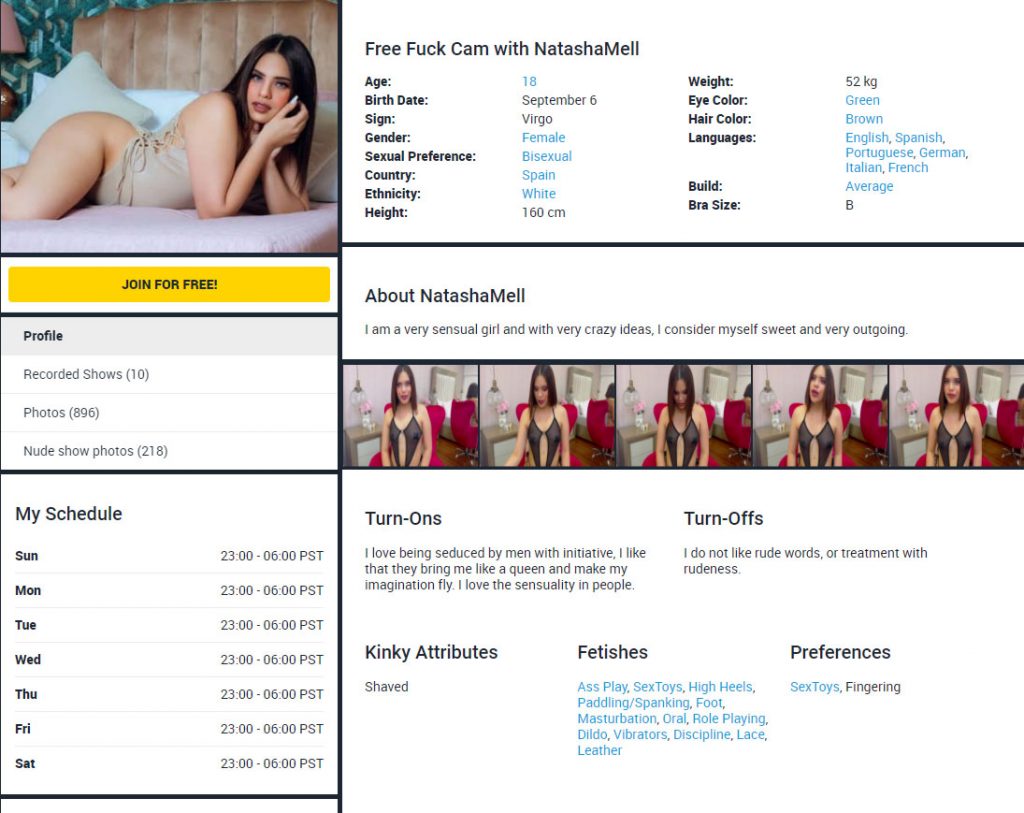 They provide general information about their sexual orientation and age, but they also mention their fetishes, what kind of performances they like doing, or anything else that they feel is worth mentioning. Also, you are likely to find different content that they create, such as videos and photos.
Registration on the site is quick
Registering on the site allows you to access all the available features. All you have to do to register for free is enter your username, password, and email address. It doesn't take a long time and once you register, you will be able to decide whether you want to have a paid experience with a model or just join a free chat.
There are different options when it comes to how users can interact with a cam model on FireCams:
According to the information on the site, the free chats shouldn't involve any nudity and it is something that is reserved for paid chats. However, the reality is that you can often see models that don't stick to this rule and display it all.
FireCams allows users to have private chats with models that they choose. Just as the name suggests, there will be no other people interacting with the model and you can ask her to do what you like. It's possible to decide on details of the cam show and also its duration.
Compared to the private chat, the cost for the voyeur view is minimal. When you choose this option, you can take a peek at a certain private chat. It means that you won't be able to chime in and tell a model what you want to see, but you can be a silent observer. When you have a private chat with a model, others can also join as voyeurs to see how a model performs for you.
In this nude chat, there is an interaction between several users and a model. This is a great option for those who want to enjoy a show and don't have any specific requests that would require a private chat.
Another variant of a group chat that you can have on FireCams is a party chat. In this case, multiple users appear in a single chat and they can have fun with the model together.
What additional features are offered?
One of the most exciting and interactive features of FireCams is the cam-to-cam experience. Just like on some other sites, you can show yourself to a model during a chat by turning on your webcam. In this way, you can have a full-on experience with a model and feel like you are really there with her and not just watching a video like you would on a porn site. What is interesting is that it's not only in the private chat that you can have a cam-to-cam experience, but in a group chat and in a party one as well.
When it comes to interaction with a model, FireCams gives users an opportunity to call cam models and chat with them on the phone in real-time. The feature is just like the classic sex on the phone and if you are into it and enjoy hearing a model speak, this is a great feature to try.
Another thing to mention is that the site also records videos so that they can be viewed later. It is a paid feature and you can access performance on a model's profile whenever you feel like watching the video again.
Pros
Offers different types of chats
Plenty of basic filters to search for the right cam
Many beautiful girls of different ethnicity
Gay and trans-friendly site
Features male models
Allows you to watch recorded videos of shows
Cons
No audio on some cams
Some kinky filters are not available
Convenient and user-friendly site for live cam shows
FireCams is a modern live sex site with a great selection of features and an abundance of different models. Whether you are into women, men, or transexuals, you will find cam models in these categories. The number of women is definitely higher and you can find just the right cam girl by using different filters offered on the main page of the site. On FireCams, you can choose a group chat experience or a private one depending on your preferences.